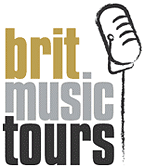 Brit Music Tours Offering all sorts of music-themed tours around the UK, including a Beatles Liverpool Tour, a Beatles London Walk and a Beatles London bus Tour which finishes at the London Beatles Store. Save 10% when you book online using the promo code SAVE10.

Fab 4 Taxi Tours
Choose from several Beatles Tours of Liverpool with Fab 4 Taxi Tours. Travel with the original and best Beatles sightseeing taxi tour company in Liverpool and save 10% when you book online using the promo code
SAVE10
.

London Guitar Institute
London Guitar Institute offers excellent guitar education for all levels – from absolute beginners to very advanced guitar students.
London Rock Tour
Discover Monumental Rock Landmarks throughout a London you'd not otherwise see, and hear the stories, gossip and trivia that make Rock 'n' Roll what it is!
---

London Black Taxi Tours
London Black Taxi Tours. Where you can visit and explore the sights of one of the greatest cities on earth from the comfort and convenience of a famous London Black Taxi.
---

Explore Britain, includes a Beatles walking tour in London
Explore the British & Irish countryside with our self guided walking tours.
---

Beatles Days
The site for the most up to date information on all 'Beatles Events' in Europe!
---

Beatlemania
Take the magical mystery tour through five storeys of Beatlemania Hamburg.
---

The Beatles Hairdresser
The official archive of Leslie Cavendish, The Beatles' hairdresser from 1967-1975.
---

Revolution
A Brasilian Beatles Fan Club website (In Portugese).
---

Small Car Big City
smallcarBIGCITY provide unique sightseeing Tours of London, Wedding Chauffeur Hire, Corporate Hire and Minicab Services in classic Mini Coopers. There is nothing more quintessentially British than a Mini in London.
---

Wapping Wharf
From the very humble beginnings "Darlings of Wapping Wharf Launderette" has grown in stature to be just about the most respected and best selling self published fanzine in the UK. It's the only publication on the market dedicated to the memory of the coolest, sharpest band of them all, the East End of London's own fab four - The SMALL FACES!
---